Kansas City's Hydrojetting Professionals
The Plumbing Pro Has 40 years Experience
What is Hydro jetting and How does it work?

The Plumbing Pro offers hydro jetting whenever more traditional methods (auger, snake, etc.) fail to unclog a line. Hydro jetting uses a highly pressurized flow of water that jets or scours the inside of your pipe CLEAN. Hydro jetting is very effective at removing soap, hair, scale, grease, mineral and other debris. It can even remove roots.
This special line cleaning technique delivers water pressures of 4000 psi and 12 gallons a minute to clean your lines. The Plumbing Pro has the expertise to know the right pressures to resolve your problem without damaging older and fragile pipes.
Comprehensively Clean Your Pipes
Hydro jetting can comprehensively clean you pipe, but hold on, it's not to be used in ever situation. This service is more often used in commercial properties, far less often in residential plumbing situations.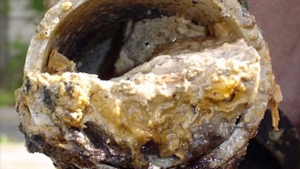 Visually inspecting your pipes, using our video camera line system, is often the first step in our process. Tree roots, rocks, and soil in the lines are other factors that may mean a sewer repair or replacement is required.
Let The Plumbing Pro come out a take a look at your plumbing problem. We promise to use all our experience and skills to resolve your issue quickly and affordably. For more information call (816) 763-8200 today.
RESIDENTIAL AND COMMERCIAL PLUMBING SERVICES
All residential and commercial plumbing repairs | backflow testing & valve installation | backhoe & boring work | bathroom remodeling | clogged drain pipes rooter & snake | hydro-jetting clogged drain line  | copper pipe | dripping faucets | ejector pumps | electronic pipe & leak locating | emergency plumbing service | faucet replacement | frozen pipe thawing | garbage disposals | gas piping | pressure testing of gas lines | grease traps | hydrants | commercial main line | pipe insulation | plumbing fixtures | PVC piping | running toilets | showers | sinks | septic system installation | repair of septic tanks | gas odor sewer problems | sewer pipe bursting | sewer pipe lining | sump pumps | tankless inline water heaters | toilets replacement | trenchless pipe repair | tubs  | valve replacement | vent systems | video pipe inspection | underground sewer pipe replacement | walk in tubs | products for water conditioning | water drainage | repair water line | emergency hot water repair | water heaters install & maintenance | water softeners & conditioners | water safety alarms | washer hose | whole house repiping