(816) 763-8200 (913) 782-9669
Kansas City's Doctors Office Plumbing Pro
If you are looking for a plumber who can handle the plumbing issues of a doctor's office, look no further, The Plumbing Pro can help. Whether you are changing, upgrading, repairing or installing new plumbing our skill professionals have the skills and the quality products to make your project a success.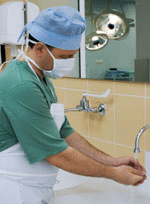 The Plumbing Pro has been serving the residential and commercial plumbing needs of Kansas City for more than 36 years. Office sinks, water heaters, specialized piping for water and sewage are just some of the projects we can help with. We proudly offer free no-hassle estimates and promise to complete the work safely and cleanly.
We have the parts and equipment you will need to open your new office or keep it running without the hassles of plumbing problems.  We can help with renovations, tenant improvements or office locations that are ADA compliant,
Contact Us Today
Call The Plumbing Pro today at (816) 763-8200 (913) 782-9669. Give us a call and we will provide you with an estimate and establish a timetable and obtain the necessary permits needed to complete your project.

All residential and commercial plumbing repairs | backflow testing & valve installation | backhoe & boring work | bathroom remodeling | clogged drain pipes rooter & snake | clogged drain line hydro-jetting | copper pipe | dripping faucets | ejector pumps | electronic pipe & leak locating | emergency plumbing service | faucet replacement | frozen pipe thawing | garbage disposals | gas piping | gas pressure testing | grease traps | hydrants | pipe insulation | plumbing fixtures | PVC piping | running toilets | showers | sinks | septic tanks | sewer gas odor problems | sewer pipe bursting | sewer pipe lining | sump pumps | tankless inline water heaters | toilets replacement | trenchless pipe repair | tubs  | valve replacement | vent systems | video pipe inspection | underground sewer pipe replacement | walk in tubs | water conditioning | water drainage | water line repairs | water heaters install & maintenance | water softeners & conditioners | water safety alarms | washer hose | whole house repiping
The next time your residential or commercial plumbing is leaking, clogged or dripping – call The Plumbing Pros in Jackson, Platte and Clay Counties in Missouri at (816) 763-8200 and (913) 782-9669 in Johnson County KS. The Plumbing Pro offers fair, no-hassle estimates – if you like the price we'll do the work. We accept cash, credit and have several financing options available. That's why The Plumbing Pro is the HEARTLAND'S most recommended plumbing, sewer, drain, and rooter company.
The Plumbing Pro (816) 763-8200 (913) 782-9669