Emergency Kansas City Rooter Services from The Plumbing Pro
The Plumbing Pro / Kansas City Metro (816) 763-8200
MONDAY – FRIDAY 8AM – 5PM / SATURDAY 8AM – 2PM
Kansas City Rooter Services
Today many plumbing companies and handyman services offer rooter services; you can even buy your own rooter equipment from your local hardware store, but not all rooter equipment or rooter professionals are the same.  As a result many business and home owners fight a constant battle with the same clog. At The Plumbing Pro we have been perfecting our rooter skills and removing clogs all over Kansas City for over 40 years.
Our specialized Rooter services can help you solve the occasional slow or clogged drain. The Plumbing Pro rooter system can remove organic debris, food scraps, hair, soap and more from your home our business drain. Whether it is a kitchen sink, bathroom lavatory, toilet line, tub or basement drain we can help.
Rooter Auger
When you call The Plumbing Pro we use a drain rooter or corkscrew auger to remedy your slow or clogged drain. It's long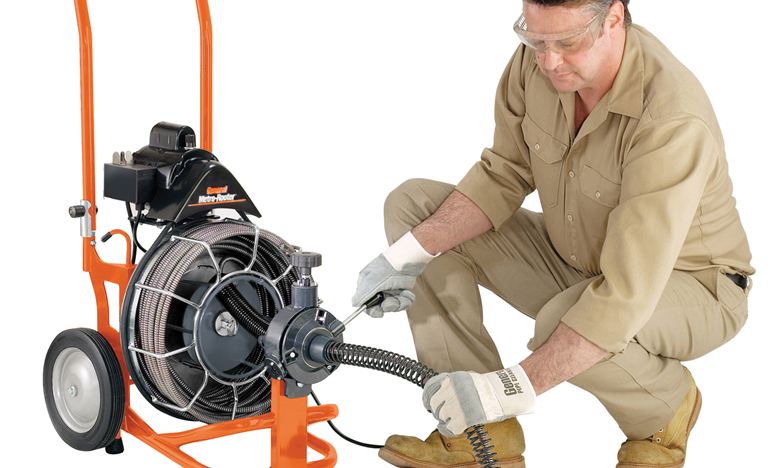 pliable metal cable with blades is designed to rotate inside the drain and through the pipe to remove the cause of your clog without damaging the pipe itself.
The rotation or the auger causes the sides of the pipe to be cleaned from solidified waste, hair and roots in the lines. And our rooter equipment can clean out your main line up to 125 feet.
Most Pipes Cleaned In An Hour
The Plumbing Pro has found that most drains are cleaned within an hour. We find the clog, remove the cause of your stoppage and return your drain and pipe back to working order without any mess.
Sometimes The Plumbing Pro rooter service will help you determine your next step. If your drains clog regularly just months after rooter work has been done, this may show your clog requires additional attention including hydro jetting, boring and backhoe or an underground sewer pipe repair. We also offer trenchless sewer repair.
Fully Equipped Service Vehicles
Never fear The Plumbing Pro is here! Our experience will only point you to further repairs if you need them. Our pro plumbers and fully-equipped service vehicles are capable of repairing or replacing every plumbing eventuality we encounter. However WE LOVE DRAINS – especially clogged ones! CALL TODAY (816) 763-8200.
Profession Consultations & Fair Estimates
The Plumbing Pro offers fair no-hassle estimates on most plumbing projects – if you like the price we'll do the work. We accept cash, credit and have several financing options available. That's why The Plumbing Pro is the HEARTLAND'S most recommended plumbing, sewer, drain, and rooter company.
"On Aug 2, Terry did a marvelous job in unclogging the floor drain at 3216 Harris. He was friendly and very willing to teach me about preventive maintenance. Thank You, Terry!" 8/2/2018
"I have used the Plumbing Pro several times. Once again Travis did an outstanding job. I would recommend using them when you need the job done right." 7/31/2018 Yelp!

"Very pleased, again, with your services. Allen was quick and knowledgeable of his job. This is the second time we've used your company and will continue to do so." 6/13/2018 Facebook
We accept all major credit cards and offer financing through GreenSky.
Contacting The Plumbing Pro By Phone
The Plumbing Pro (816) 763-8200 (913) 782-9669
MONDAY – FRIDAY 8AM – 5PM / SATURDAY 8AM – 2PM