Tips to Keeping The Garbage Disposal Running Fine
(816) 763-8200 (913) 782-9669
Having trouble with your garbage disposal running fine? Then you may want to buy a new one. The Plumbing Pro would love to help you. We carry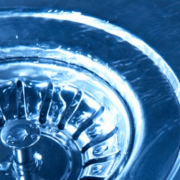 InSinkerator brand which offers a wide selection of solutions. Call us today at The Plumbing Pro for a free no-hassle estimate.
If your choice is not to buy a new disposer immediately, then understanding that most problems can be directly linked to improper use. For that reason, keep your garbage disposals running with these simple tips on proper usage and what to avoid when operating your disposer.
Do keep your garbage disposals clean, by pouring a little dish soap inside and letting it run for a minute or two after using
Do run your garbage disposals regularly
Do use of cold water because the temperature will help greases and oils to solidify and be chopped up easier
Do grind some egg shells, small chicken and fish bones periodically in order to scour the disposer blade clean
Do cut large items into smaller pieces
Do use Orange peels to reduce the odor of your garbage disposals
Don't grind glass, plastic or metal. (Non-biodegradable items are a no, no)
Don't put large of amounts of waste in at a time
Don't grind cigarette butts or ashes
Don't pour grease, oil or fat into your garbage disposal or drain
Don't grind items like corn husks, celery stalks, onion skins, potato peels and artichokes
Don't use chemical drain cleaners to clean your drains they can harm your plumbing
For a brand new garbage disposal call The Plumbing Pro today!
The Plumbing Pro (816) 763-8200 (913) 782-9669