Pipe Insulation Is A Must Before It Gets Cold Outside, Don't Hesitate!
(816) 763-8200 (913) 782-9669
Did you know that when temperatures drop below freezing, running a steady drop of hot and cold water from your faucets will keep your pipes from freezing? However pipe insulation can help, if your pipes are insulated you may not have to worry at all especially in Kansas City often light winter climate.
If your plumbing system was not installed properly in a way that prevents exposure to the elements your pipes run the risk of freezing and breaking this winter. If your pipes are installed with outside exposure, or inside attics, crawlspaces or other worrisome places you are pushing your luck. Before you hire a plumber to install or reinstall pipes in your home or new construction, make sure you hire a plumber you can trust to install them properly with pipe insulation.
Pipe insulation is a great place to start when weatherizing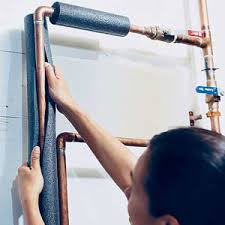 If you have found out your home plumbing system was poorly-designed, don't fear you have options – Simply insulating the pipes can help. If you would prefer to have a professional do it. Kansas City Plumbing Pro will gladly insulate your system with the proper material, such as fiberglass or foam sleeves designed to fit tightly around pipes. Depending on the location of the pipe, you may need extra protection in that case we can re-route the pipes and remove them from the danger zone. Kansas City Plumbing Pros will be able to recommend the right type of insulation.
Call The Plumbing Pro today we will send out one of our highly-trained technicians to quote and install your pipe insulation today! Freezing pipes aren't unheard of in Kansas City. We offer all kinds of preventative maintenance programs – they are always the best way to keep your home plumbing system working for you.
(816) 763-8200 (913) 782-9669
[testimonial_rotator id=7353]