Your Plumbing And High Water Pressure
COMMON WATER PRESSURE LEVELS
The most common water pressure for residential plumbing systems in Kansas City is between 50- 70. It is common for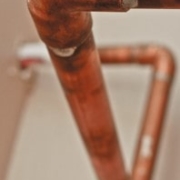 pressure tests to tend to vary throughout the day. However, in the morning pressure is usually the highest because of use in the neighborhood (due to showers and preparing for work) is much higher.  During the evening, when water usage is down, your pressure test will be it's lowest. Do you know whether your water pressure is too high?
3 SIGNS YOUR WATER PRESSURE IS TOO HIGH
Banging or Shaking Pipes: When you hear banging pipes or see shaking pipes as water is turned off and on then your plumbing systems is most likely pressurized to high.
Leaking faucets: Faucets that leak sometimes relate to plumbing systems that are pressurized beyond industry standards.
Running toilet: Sometimes high-water pressure can cause a toilet to run continuously.
FAIR NO-HASSLE ESTIMATE
If you have any or all of these signs then you should call The Plumbing Pro today at (816) 763-8200. We would love to come out and test your water pressure, make a determination and offer a solution.
You may be asking yourself- "Why do I need to call?"  Here's why. If your plumbing system is pressured improperly you could be losing money monthly to higher water and sewer bills. You could also be doing considerable damage to your water pipes, joints and appliances that use water. Don't risk the chance of your pipes cracking or breaking, leaks and reduced service life of you plumbing fixtures.
PRESSURE REDUCING VALVE
Proper water pressure is something most homeowners take for granted. You should not. A simple evaluation of your pipes with a pressure test may cost you today, but it will save you later on, re-plumbing can be expensive. Call the Plumbing Pro, if we find something amiss during our water pressure test, we may suggest the installation of a pressure reducing valve. Typical cost on such a valve is in the neighborhood $300 (installed).
A PRV (Pressure Reducing Valve) has a life expectancy of between 7 and 12 years, if yours is older than this you should call now before you have issues with it. Don't know schedule the Plumbing Pro today by contacting us (816) 763-8200
SERVING THE ENTIRE KANSAS CITY METRO
We're proud to serve the entire Kansas City metro (Olathe, Mission, Overland Park, Shawnee in Kansas and Kansas City, Grandview, Belton, Liberty, Independence in Missouri) with highly trained professionals that are committed to resolving your plumbing issue.