Is a walk in tub right for you and your family?
Are there benefits in a walk in tub? Is a walk in tub right for you and your family? We are all getting older, some sooner than others. We all are going to find ourselves someday with a choice of entering a care facility or finding a way to age at home. Some of us have already helped our own parents through this decision. Whether the decision is being made for a loved one or for our self, it can become overwhelming.
The Plumbing Pro can't help you with these types of decisions; however we can offer the opportunity to extend your stay in your own home.  How? The Plumbing Pro can improve your bathroom by making it safer and more convenient.
We offer safety bars, walk in tubs, zero threshold showers and many other things that can make the bathroom safer and more convenient as you age. Since standing or sitting in the shower can still be a slip and fall hazard. Most people looking to age in place look first at the usefulness of a walk in tub.
What are there benefits in a walk in tub?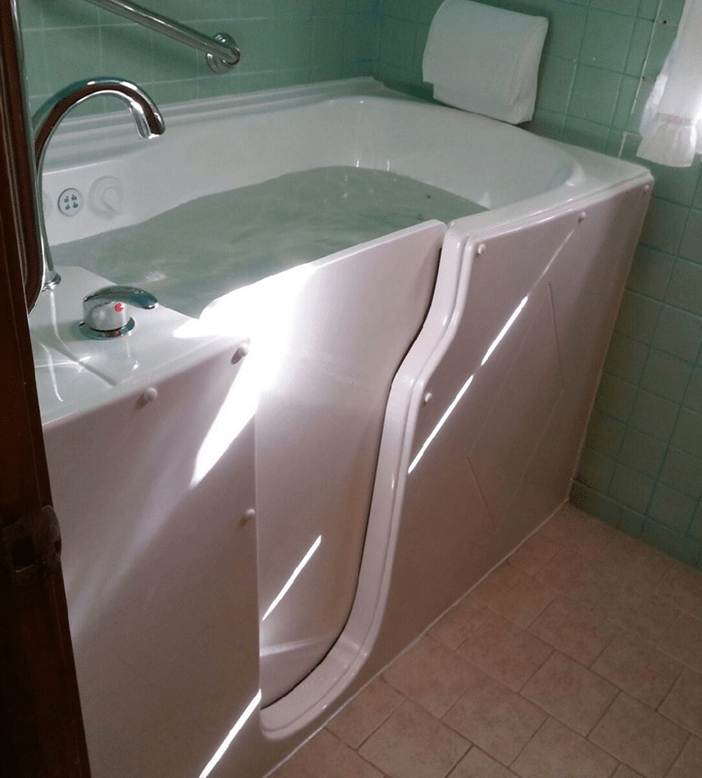 So what are the benefits of a walk in tub?
The Big Three are convenience, safety and independence.
Most walk in tubs are designed to fit into the space and replace a standard tub. This is part of the convenience factor but there is more. A walk in tub offers the convenience of easily accessible faucets, handles and air jetting buttons. They have a convenient and safe stand up seat, no need to dip low into the tub to sit inches of the ground. Some of the tub seats even come with features like jets or heated seating.
Walk in tubs are designed specifically to meet the needs of those seeking independence in their home without limiting your ability to bathe for comfort or hygiene.
Walk in tubs have a few more benefits. These benefits may or may not be part of your choice walk in tub. I consider these more features with benefits.
Hydrotherapy jetting
Have you ever consider why athletes soak in tubs warm, cold and jetted? Because hydrotherapy works for reducing swelling, aches and pains.  A walk in tub definitely offers the comfort and luxury of a long soothing bath. The water offers buoyancy and reduces the stress gravity places on ones muscles and bones.
With the right features heat, steam, hydrotherapy jets can massage away the aches and pains with aging – poor circulation, arthritis, fibromyalgia and much more.
Anti-slip seating and flooring
Most units have special coatings and designs that reduce the potentiality of slipping or falling.
Mold, mildew and bacteria resistant-finish
Some units like the Boca Walk in tub feature mold, mildew and bacteria-resistant finishes.
Self-cleaning
As you age getting down on your knees to scrub a tub can be quite a chore. Some tubs are designed reduce the need for scrubbing. Though a good wipe down with a bacterial-destroying wipe is still a good idea and a walk in tub does not require you to bend as low to the ground as a standard tub would.
Quick-draining
Though most tubs say they are quick draining – they are not all the same.  The range can be from 2 minutes to 10, and remember you are sitting in the tub during that time so pick carefully.
Shower
Hand held showering features are also a plus. Using the hand held shower fixture means you don't have to pour water over your head or try to put your head under the water in order to wash your hair.
It's obvious to this writer that a walk in tub could definitely come in handy if I wanted to choose to stay in my home as I age.  With so many benefits and convenience features I believe everyone reading this might have at least one reason a walk in tub would work for them too. Good luck
The Plumbing Pro (816) 763-8200 (913) 782-9669